In recent years, online dating in Singapore has gone from being a tech novelty to an essential staple of modern love. And it's not going away any time soon. Likely, you or someone you know has used a dating app before. Amid our increasingly busy and time-starved schedules, the convenience of meeting someone new can happen with a simple swipe. 
But the reality of being on a dating app can be challenging to navigate. From catfishing to ghosting, online dating comes with its own challenges, some of which our clients have faced too. Here are 5 problems you probably face when swiping right – or left.
1. Being on a dating app can be time-consuming.
We feel you. Being on a dating app means you'll need to toggle between multiple conversations with different people, spend time going through an overwhelming number of profiles, and invest your time and effort to conduct thoughtful banter with a complete stranger. 
But too often, the mental energy you put into each encounter might not even lead to an actual meet-up. This happens when you realise the other person did not have the intention of meeting up, or, worse, when you've been ghosted. It can feel draining and cause you to experience dating app burnout or "swipe fatigue". 
If this sounds familiar to you, why not take a break from online dating in Singapore? Try picking up a new hobby. Or let someone else help you curate your date experience, where your date will be a guarantee. Our personalised dating services at Table For Two could save you a lot of time and mental energy when it comes to finding a date.

2. Chatting online isn't the same as having a face-to-face conversation.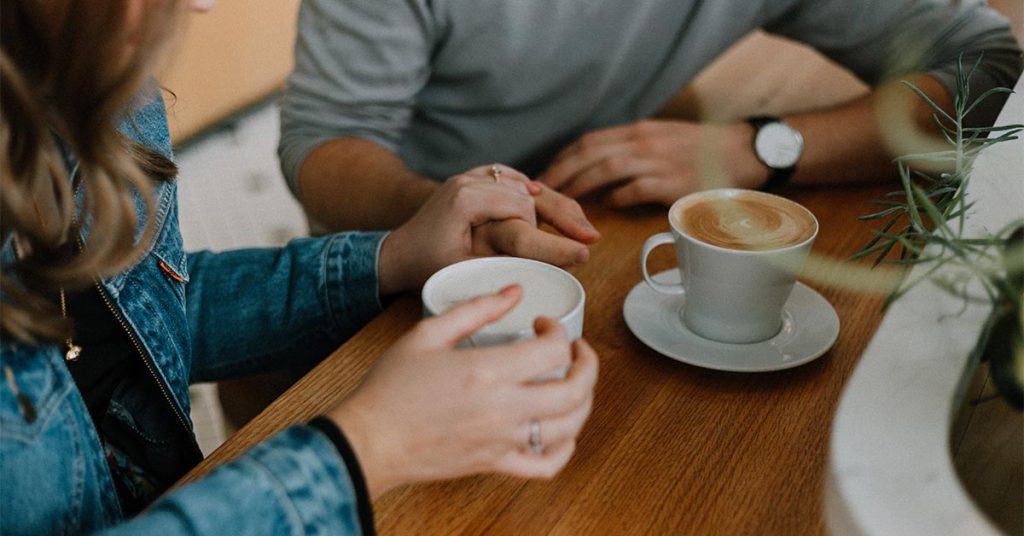 Do you find yourself screenshotting text conversations with potential matches so that you can decode their cryptic meanings with your friends? Chatting online with someone new can often feel like a perplexing endeavour when you don't have nonverbal cues to rely on, as compared to having a face-to-face conversation. 
In fact, body language experts have found that when we interact with other people, depending on the context, we might pay more attention to the tone of voice and nonverbal cues instead of the actual words spoken. The poverty of body language when it comes to online dating means that some of our needs for human connection may not be fully sated. 
Inevitably, online dating can come with its own communication barriers. This can feel frustrating as good communication is key to establishing a strong connection. Meeting IRL, in a date experience designed just for you, could help you to understand the level of chemistry with your date. This way, you can decide if they are right for you much more quickly.

3. You keep matching with the 'wrong' type of person.
Online dating in Singapore can be a baffling experience when you find yourself constantly being matched with people who seem wrong for you – like matching with people who want to date casually when you're really looking for a serious relationship. You might wonder, "Is it me?"
Chances are that for most people, how they portray themselves on their dating profiles does not accurately reflect who they are in real life. Be honest: Is the witty one-liner on your profile true to your sense of humour? Are you coming off as someone you're not? It can be frustrating having to constantly second-guess your portrayal of yourself or to tweak your profile to fit your idea of who you should be, before you've even matched with or met anyone. 
This is where having a third party, like a dating professional, to help you identify what you're looking for in a relationship could be useful. At Table For Two, we always get to know you first before curating a date for you. When finding a match for you, we'll consider your core values, the type of characteristics you're drawn to, and other essential aspects of compatibility. After all, being yourself is the best way to establish authentic connections, and you should feel free to be yourself!

4. Having too many choices leads to a "paradox of choice".
While there have never been more options as when you're on a dating app, ironically, this can lead to a "paradox of choice". Studies have found that when faced with an overabundance of opportunity, people are more likely to experience anxiety, which can paralyse the person making the choice to the point of inertia.
Sound familiar? 
There's growing evidence, too, that dating apps promote social anxiety. The knowledge that you can always download or re-download a dating app to be confronted with more options might make you feel potential regret for choosing poorly (why me?), increase your expectations (why settle for less?), or lower your self-esteem when you compare your choices with the choices of others (why are other people going on such great dates when I hardly even get any matches?).
As it turns out, having endless choices on dating apps might not necessarily be a good thing. 
Instead of focusing on the choices at your disposal, it might ease your anxiety to let someone else "swipe" on your behalf. Through Table For Two's personalised date curation, you'll find like-minded people who share your values more easily. This way, you can wholly focus on connecting mindfully with the other person on your date.
5. It's difficult to make meaningful connections when dating online.
A common critique of dating apps is that the swiping mechanism "gamifies" dating. That, plus their highly visual nature, makes it easy for anyone to fall into snap judgments about the profiles you're presented with, even before you get to know them personally. 
Uncannily, dating apps can feel more like an addictive game (swipe right or left) rather than a pursuit for meaningful connection. This can also mean feeling like you have to conform to "the rules of the game" by presenting an idealised version of yourself, which can take a toll on your mental well-being and self-esteem. 
The truth is that who we are attracted to in the real world might differ from the standards we are socially conditioned to accept as attractive online. 
One way to find out is to meet new people in real life.
---
Feeling swipe fatigue and curious about alternative ways to meet new people? Our personalised matching service takes the stress and anxiety off online dating in Singapore through our curated, "social first" experiences. Try it for yourself.
All images are taken from Unsplash.