If you're planning a fun and unique date, a visit to one of these pet-friendly places in Singapore will surely shake things up and add a touch of the unexpected. Even better: If you happen to be dating an animal lover or you're both animal lovers, your fur kids will get to tag along as your furry plus ones! This way, you'll be able to create new memories with each other and forge a deeper bond with your pets. 
These animal-friendly places, ranging from outdoor spots to cat and dog cafes, help you to do just that.
Cat and Dog Cafes 
For animal lovers, one way to go off the beaten path on your date is to pick a cat or dog cafe. After all, few places in Singapore offer conversation over coffee with free cuddles from roaming cats or dogs. If you ask us, that's a winning combination unlike any other. 
Do note though that these cafes do not allow the public to bring in their pets, so it's best for people without pets. Scroll down for more pet-friendly places where you can bring your pets!
Cat Cafe Neko no Niwa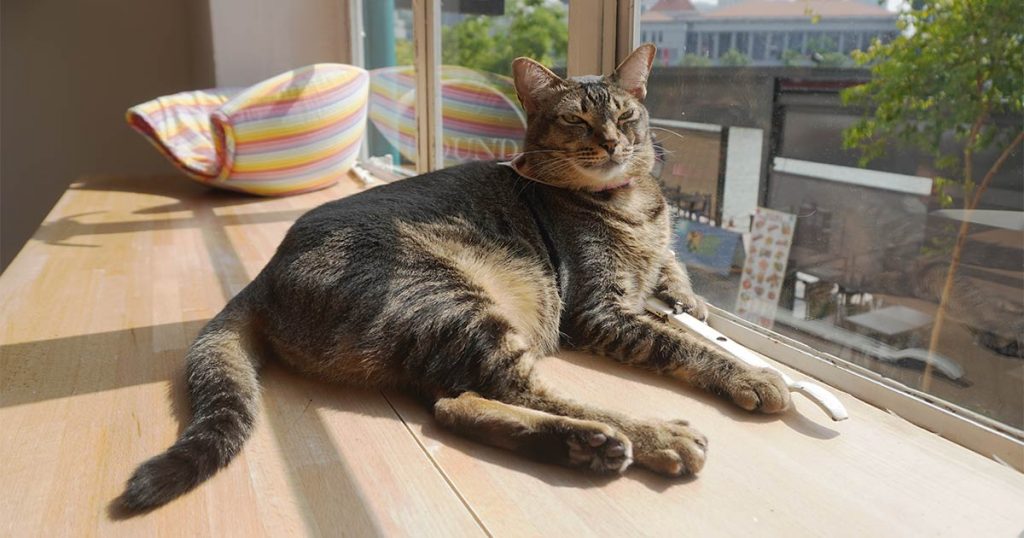 Image: Table For Two
Address: 54A Boat Quay, Level 2
Reservations: catcafe.com.sg
Known as the Singaporean cat cafe that started it all, Cat Cafe Neko no Niwa was inspired by Japan's many feline emporiums. Here, the cats are adopted and, like most other cat cafes, you'll get to interact with the cafe's furry residents for a minimum time-based fee of $12 for an hour. If you spend 3 hours or get the whole-day pass ($32), you'll get a free hot chocolate drink upon flashing your student pass.
The Cat Cafe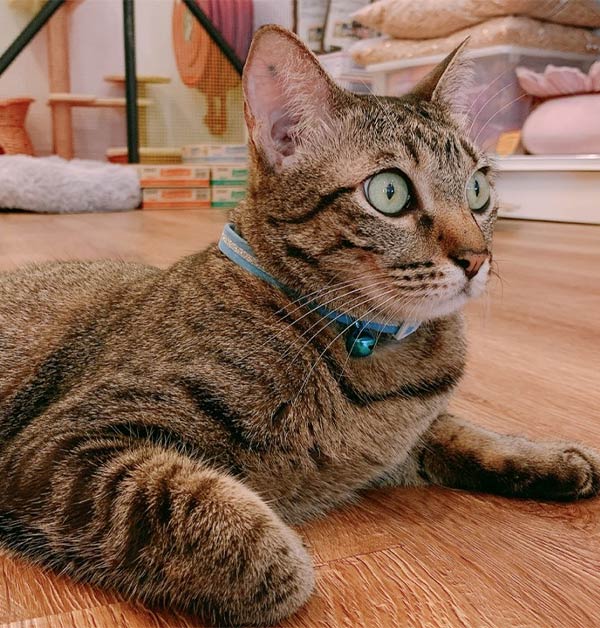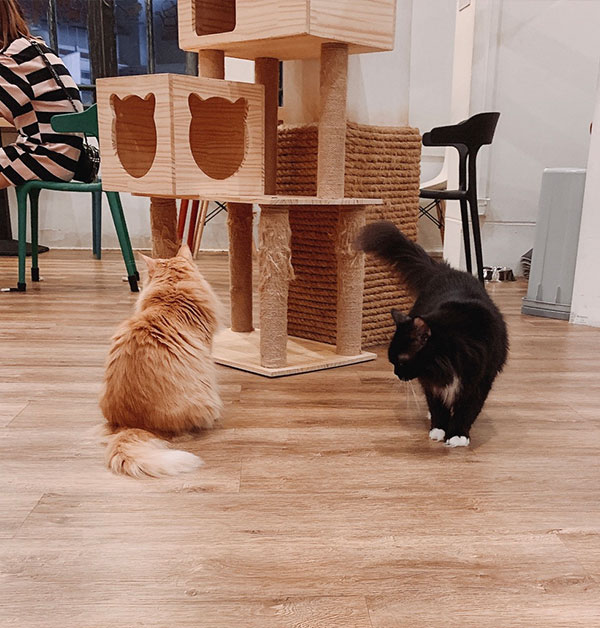 Image credit: The Cat Cafe
Address: 392 Upper Bukit Timah Rd (The Rail Mall) or 241B Victoria St (Bugis)
Reservations: http://thecatcafe.sg/
Think coffee, cakes and cats with your date. The Cat Cafe boasts freshly brewed coffee and light mains like lasagne ($9.50) and chicken mushroom pie ($5.50), so you can get intimate over brunch while surrounded by friendly felines. At their two outlets in Bugis and The Rail Mall, a cuddle charge of $16 lets you cosy up to a kitty for two hours. Subsequent blocks of half hours are chargeable at $4 each, if you can't bear to say goodbye just yet. Pet toys are also available for patrons to play with the cats.
Meomi Cat Cafe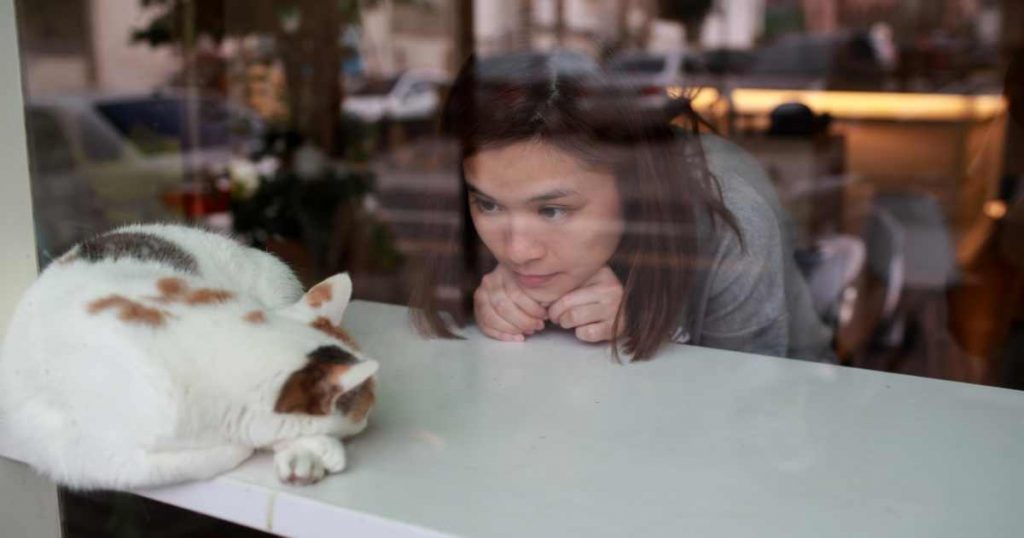 Address: 668 North Bridge Road
Reservations: 62960339
Nestled within the trendy Kampong Glam area, a visit to Meomi Cat Cafe is a noteworthy way to end a date after traipsing through the vibrant neighbourhood. The cafe's atmosphere is instantly inviting with its cat-shaped cushions propped up against tatami mats. The beverages are basic – either juice or tea – but that's not what you're here for. For $13 an hour, bask in the presence of their resident cats while the cafe staff entertain you with anecdotes about each cat's unique personality.
We Are The Furballs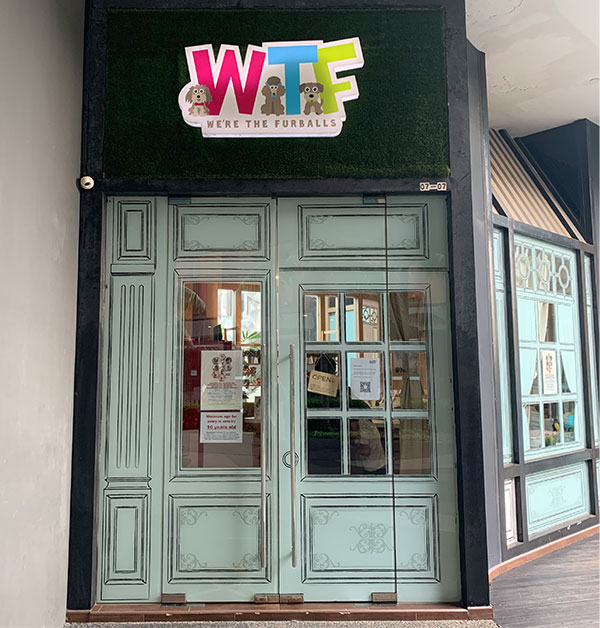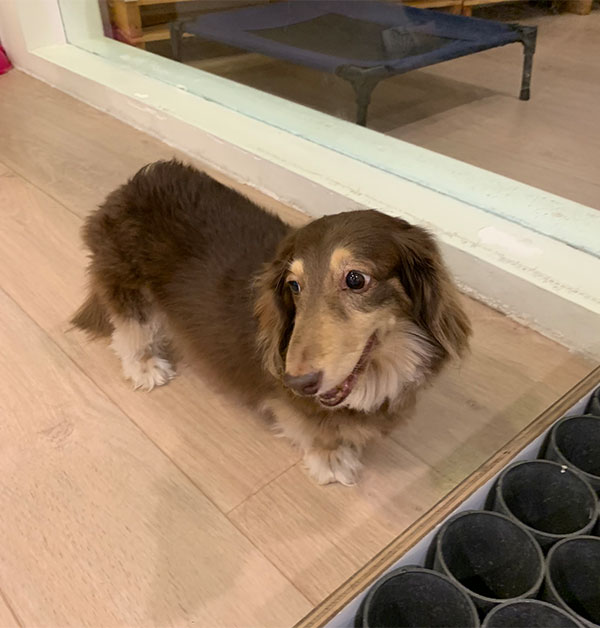 Image: Table For Two
Address: 201 Victoria Street, #07-07 Bugis+
Reservations: 66358339
Conveniently located in Bugis, We Are The Furballs is Singapore's first dog petting cafe. Its resident pooches, led by Bui Bui the French Bulldog, roam freely around the cafe's playhouse and are available for cuddles at $10.90 for every 1 and a half hours (along with a free drink). On weekends, the cuddle charge is $12.50. If you'd like to entice the dogs onto your lap, dog treats are also available at $3 per packet.
---
Pet-Friendly Cafes and Restaurants
Thinking of bringing your pets along with you? Not all of these pet-friendly restaurants have a dedicated menu for your furry friends, but they're idyllic spots for letting your dog meet your date's dog while you exchange stories over weekend brunch. Here are a few dog-friendly restaurants where the quality of food is sure to spark conversation.
Central Region:
Baker & Cook Dempsey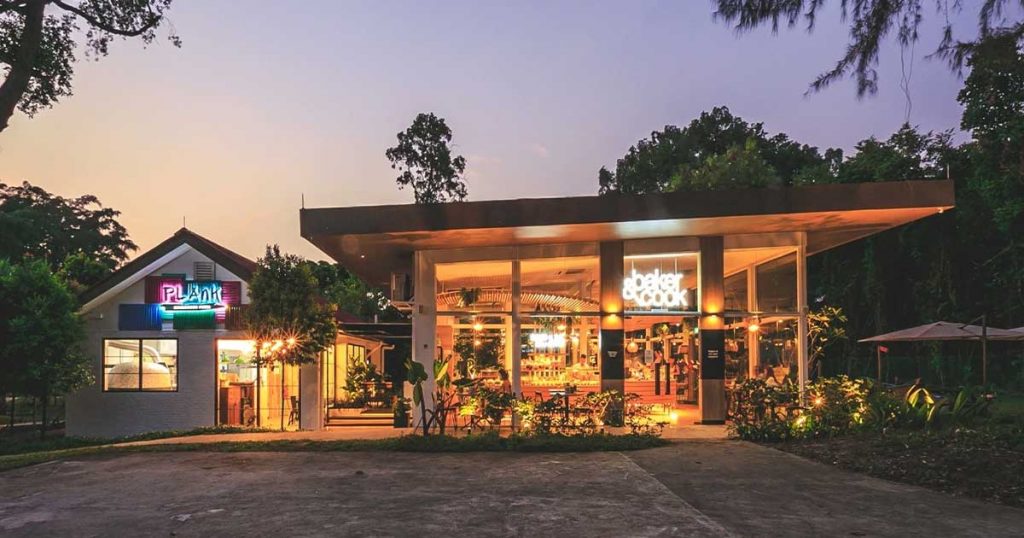 Image credit: Baker & Cook
Address: 30C Loewen Rd
Reservations: 6251 1098
It might be a bit out of the way, but this Baker & Cook outlet is worth the journey for Dempsey's lush greenery. While there isn't a dedicated pup menu, it's perfect for an escape from city life with your dog. The menu here is distinct from other outlets, with sourdough pizzas from its neighbour Plank and small plates like miso glazed eggplant ($16). Whether you're in the mood for a pancake breakfast or a sirloin steak, there's something for everyone here.
North Region:
Chow Cute Cafe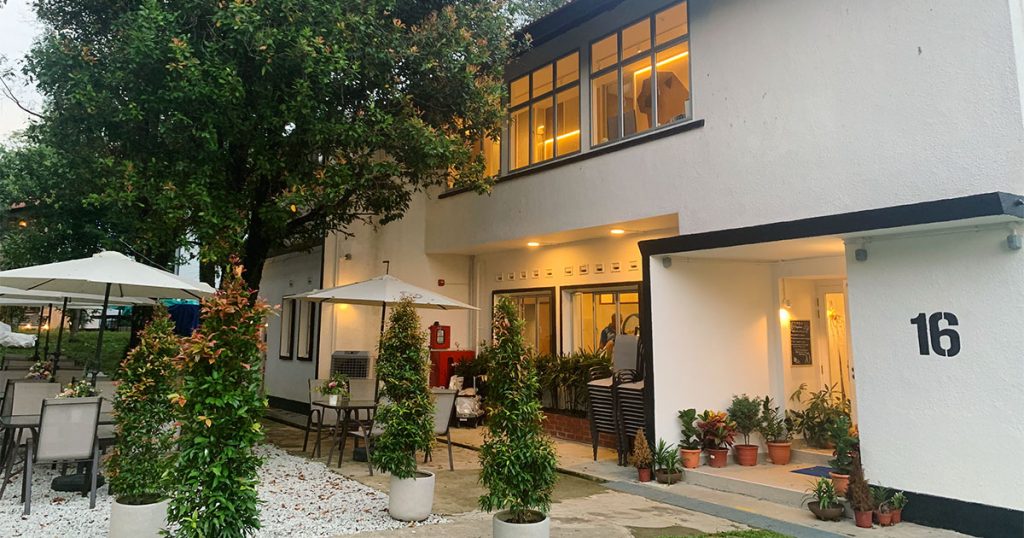 Image: Table For Two
Address: 16 The Oval, Seletar Aerospace Park
Reservations: 69747916
Named after the magnificent blue-tongued breed Chow Chow, this cafe is nevertheless open to dogs of all breeds. Housed within a well-preserved colonial bungalow, Chow Cute Cafe is an all-in-one doggy daycare, pet grooming service and dog cafe. Spend a lazy afternoon here with their waffles ($9.50 for cinnamon cream waffle) and sandwiches while your furkid chows down on the pet menu. There's even a spacious lawn for your dog to meet other dogs, including the cafe's roaming chow chows.
If you're already visiting The Oval, the surrounding Seletar Aerospace Park is also a family and lifestyle destination with verdant greenery for your pets to roam around afterwards.
Canopy Bishan Park
Address: 1382 Ang Mo Kio Ave 1, Bishan Park 2
Reservations: 6556 1533
Nestled within the heart of Bishan-Ang Mo Kio Park, Canopy draws dog-owners and park-goers alike with its laid-back vibe and all-day dining. The restaurant is conveniently located near the park's Dog Run, so you could easily spend an entire afternoon here with your fur kids. In its outdoor seating area, you'll find diners kicking back with pizzas, pastas and beer while their dogs lounge under the tables for a pet-friendly happy hour.
East Region:
The Coastal Settlement

Image credit: The Coastal Settlement
Address: 200 Netheravon Road
Reservations: 6475 0200
Once a military camp for the British Royal Air Force, The Coastal Settlement is a well-known dining hotspot near Changi Beach. Its eclectic décor is a playful wink at its heritage, filled with retro memorabilia and antiques. The outdoor seating area is pet-friendly, with ample space and a lawn for your furry friends to run around in. As for the menu, you can't go wrong with the smoked salmon rosti sausage ($26) or the wagyu beef pizza ($25).
The Garden Slug
Address: 55 Lor L Telok Kurau, #01-59/61 Bright Centre
Reservations: 6346 0504
Touted as an "old-school coffeehouse", The Garden Slug serves up rustic pastas and burgers in hearty portions. It's an ideal spot for weekend brunch with your pooches by your side at their pet-friendly al fresco dining area. The dog-friendly menu is prepared with real, wholesome ingredients like the Vegan Pupcake ($13.90), a banana, basil and pumpkin cake with 100% virgin coconut oil. Don't miss their Tom Yum Pasta Vongole ($19.50) for yourself, with its steamed clams in a well-spiced broth.
Café De Nicole's Flower
Address: 224 Telok Kurau Rd, #01-01 UNI Building
Reservations: https://cafedenicolesflower.com/reservation/
Beyond the garlanded entrance of Café De Nicole's Flower, you'll be greeted by the gorgeous floral arrangements inside this Instaworthy florist-cum-café. Best of all, it's pet-friendly too, with a resident grey cat named Lao Ban. Standard brunch fare is available here, but the star of the menu has to be the cafe's soufflé pancakes. A droolworthy stack comes in flavours like Matcha or Earl Grey & Boba (from $15.90), which is best accompanied by their artfully presented specialty drinks.
West Region:
W39 Bistro & Bakery

Image credit: W39 Bistro & Bakery
Address: 39 Jln Mas Puteh
Reservations: 9646 5372
Inside this cosy, quaint bistro, you'll find the breakfast crowd lounging with their dogs on its outdoor patio on most weekends. It's recommended to book a table at this West Coast gem, popular for its Asian-inspired bistro food with a nod to local flavours. The Nyonya Mee Siam ($14) with a sous vide egg sells out fast, while its eggs benedict on braised lamb shank ($15) is a unique spin on the breakfast classic.
---
Pet-Friendly Outdoor Spots
There's nothing like exploring new places in Singapore with someone new, along with your beloved pups. Not only will your dogs be getting an enjoyable spot of exercise, but you'll also get to bond over an outdoor activity and immerse yourselves in nature. Thankfully, there are more dog-friendly outdoor spots than you realise, including a luxury resort on Sentosa Island!
Central Region:
Botanic Gardens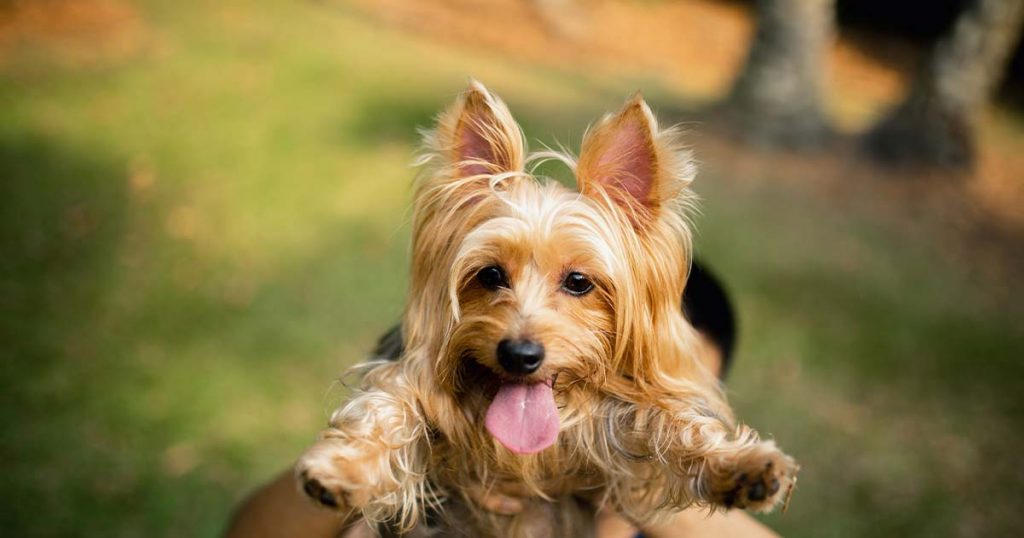 As one of the most popular parks in Singapore, Botanic Gardens is where your dog is bound to meet a new canine friend or two. If you'd like to make it a date, spend an afternoon picnicking with your pups amid the Gardens' tranquil greenery. Don't forget to keep your dog hydrated and on the leash. Feeling peckish? Stroll over to Casa Verde, a pet-friendly trattoria that serves up Italian grub with water bowls for your fur kid.
West Region:
Wag & Wild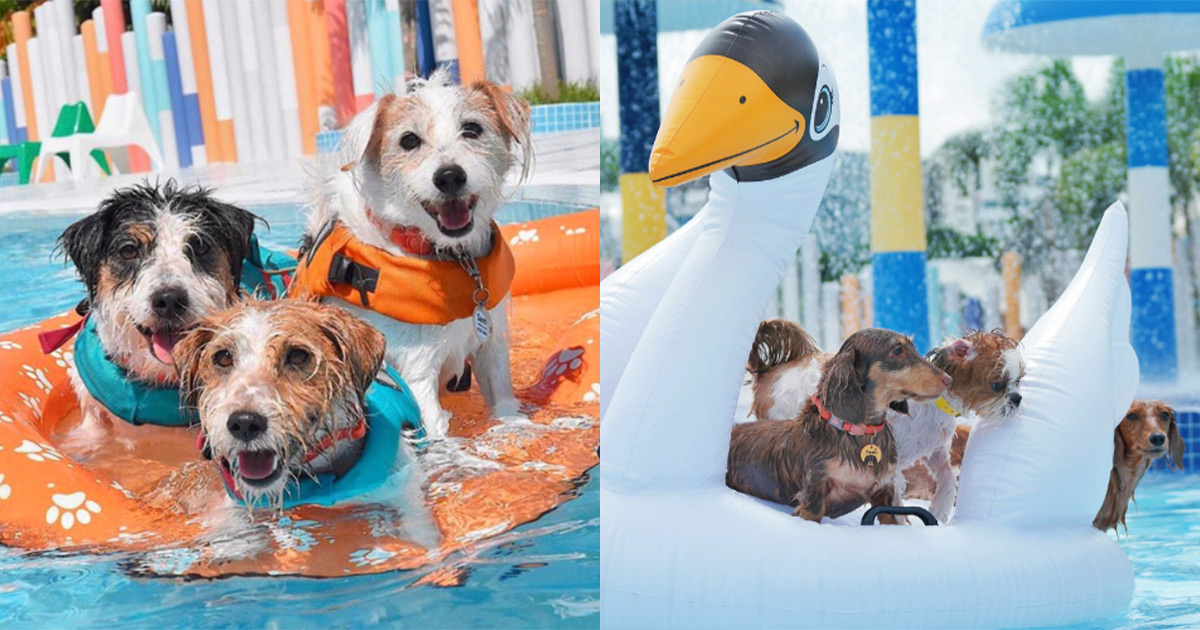 Image credit: Wag & Wild
Address: 2 Jurong Gateway Rd, #01-13
Looking for a splashing good time? Wag & Wild, Singapore's largest dog water park, opened this year with over 19,000 square feet of dog-friendly pools. Plunge into the pools with your furry friends, hop onto the Instagram-worthy floats and enjoy a fun-filled bonding day! Entry is on a per-dog basis at $28 with free complimentary entry for two human guests per dog. Purchase your tickets online and ensure your furkid has had its annual vaccination or titer test in the last 12 months.
East Region:
Dog Run at East Coast Park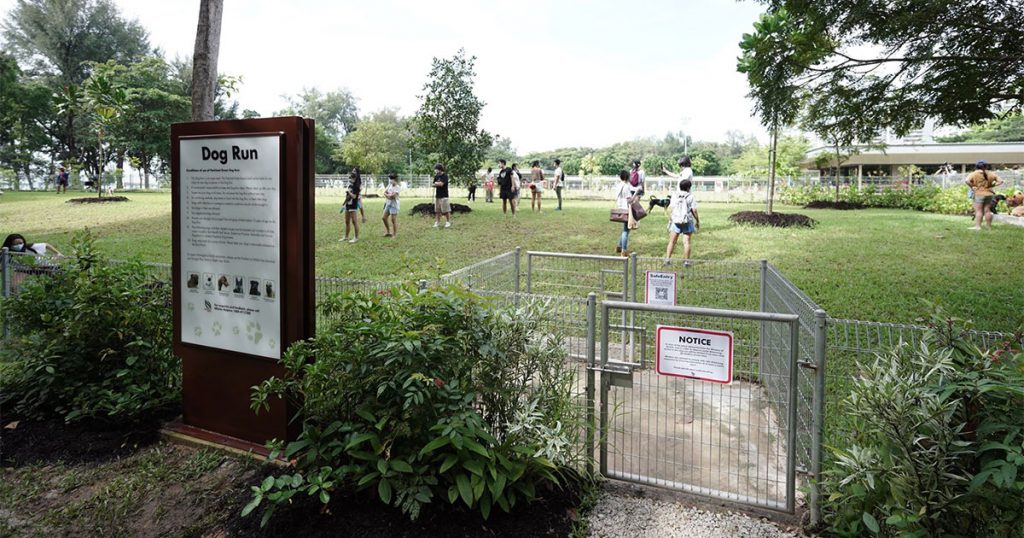 Image credit: NParks
Animal lovers, rejoice. The newest dog run in Singapore also happens to be the largest in the east at a sprawling 2,000 sqm. It's located at Parkland Green within East Coast Park next to a newly opened bird perch, making it a pitstop that's worth checking out for any animal or nature lover. Set up your own barbecue, hang out by the beach, or splash into the tide with your pooch!
South Region:
Tanjong Beach Club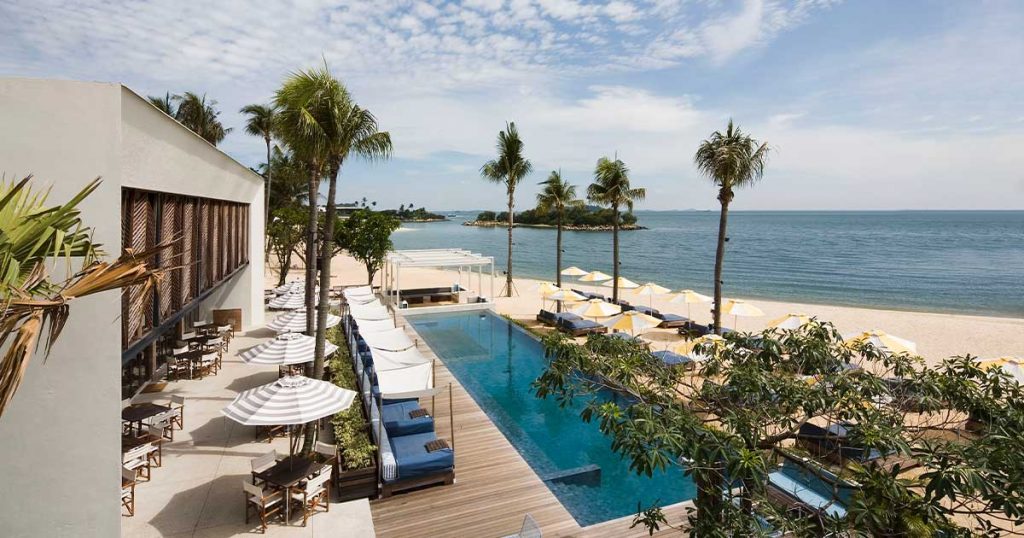 Image credit: Tanjong Beach Club
Address: 120 Tanjong Beach Walk, Sentosa Island
Go on the ultimate getaway at this pet-friendly beach, lauded by Condé Nast Traveller as one of the World's Best Beach Clubs. Tanjong Beach Club offers a slice of tropical paradise in the heart of Sentosa Island, where you can soak up the sunshine or indulge in fresh seafood with a cocktail to go with it. Pet-friendly zones include the Beach Daybeds ($100 to $400 per daybed) and Picnic Tables, which can accommodate up to 5 or 8 guests at the time of writing. Make sure to book ahead!
Staycation at Amara Sanctuary Resort Sentosa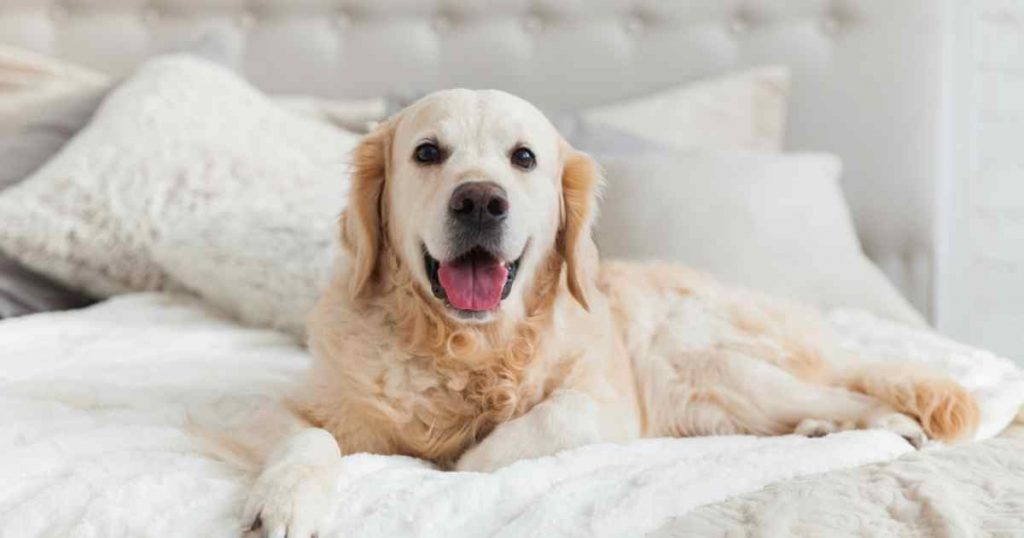 Address: Sentosa Island, 1 Larkhill Rd
Cuddle up to your fur baby on a pawfect staycation at Amara Sanctuary Resort Sentosa! Indulge in 5-star luxury with their Pampered Paws (for dogs) or Pampered Meows (for cats) packages. The Pampered Paws package starts from $500++ for a one-night stay at the colonial-style Courtyard Suite, while the Pampered Meows package offers a one-night stay in the Deluxe Room from $350++. There's even a complimentary welcome pack for your pet which includes kibble, wellness treats, and more!
---
Been thinking of visiting a cat, dog or pet-friendly cafe? Meet like-minded people who share your love for animals and go on animal-friendly dates! Let us find your ideal date.